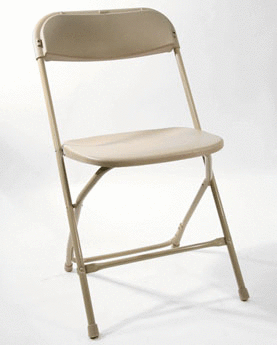 Chair Basic Tan - Bundle of 10
Our basic tan chairs are perfect for your backyard birthday party or large corporate event. If you are looking at using chair covers for a more elegent event these are the perfect chairs to be budget friendly.
Our pricing includes ONLY the chair to rent for up to 3 days for the same price. Customer pick up will not include any extra charges to your order but must be picked up Friday between 8am-10 am and dropped off Monday between 8am-10am. If you drop off late there is a $25 late fee. If you need a different time arrangement please contact our office immeditely. If you want us to deliver we can deliver 7 days a week between 8am-5pm at your convenience. Deliver charge includes us picking up and dropping off. If you are located in Abilene there is no travel fee. All you need to do is drop down at the delivery menu to include the delivery fee and check delivery instead of customer pick up.
Image for reference only.
Actual item may look different